Janumet Coupon, Costs, How to get it, Benefits, Side Effects, a Guide
Posted October 29, 2015 by admin
Is Your Janumet Medication Too Expensive?

Learn How People Are Paying A Set Price of $50 A Month For Janumet Through Prescription Hope!
Are you looking for a place to get your Janumet medication at an affordable price?
Look no further!
Prescription Hope offers the top prescribed diabetes medications prescribed on a national level including Toujeo, Lantus, NovoLog, Januvia and many more for the set cost of $50 per month for each medication!
Janumet Cost Comparison Chart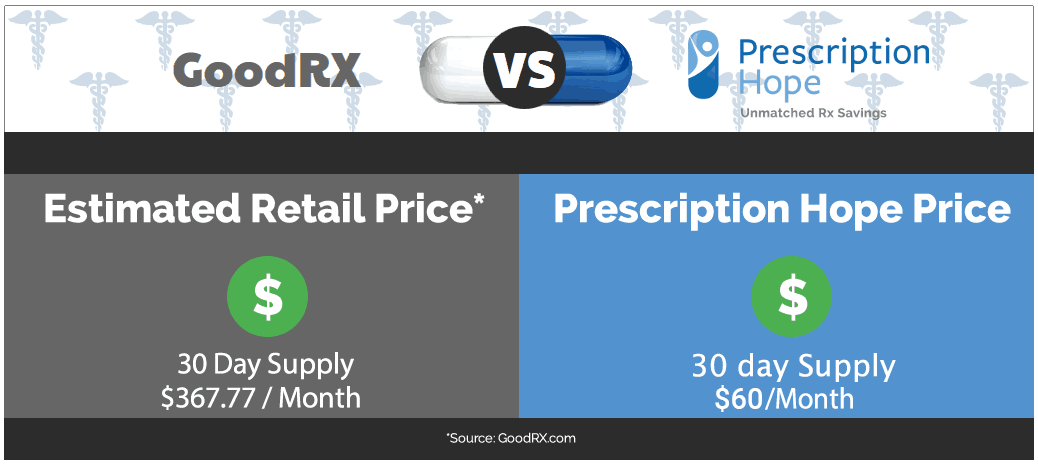 But first, in case you're unsure as to whether Janumet is right for you, let's give you a quick answer to what is Janumet, then we'll get into more detail…
What Is Janumet? Janumet is an oral diabetes medication used for reducing blood sugar levels in adults with type 2 diabetes. It contains a combination of two drugs; metformin and sitagliptin. It works by reducing the production of sugar in the liver and also by reducing the absorption of glucose via the intestines.
Janumet Cost
Through normal retail and other channels, costs for Janumet can be expensive – well in excess of $400 per month. Janumet costs will also vary depending on your medication needs, and even the state you live in.
Therefore calculating exact costs per individual can be difficult. This is why enrolling in Prescription Hope allows us to better assess your medication needs, and both obtain and plan your initial medications and refills accordingly.
Janumet Coupons
Prescription Hope works with pharmaceutical manufacturers' patient assistance programs, so we're able to provide a potentially massive cost reduction on Janumet once we've been able to assess your individual needs and circumstances, families in the US earning less than $100k dollars per year could qualify for Prescription Hope. Why not Calculate Your Monthly Medication Savings.
Or, Get in touch with us for more information, or enroll now and see if we can get you your medication for the set price of $50 per month.
How Do Payments Work for Janumet
Again, once we have been able to assess your eligibility for the Janumet patient assistance program and you are approved, your total monthly cost for Janumet will be $50. Our trained experts will be able to guide you on all aspects of obtaining your medications. From pricing to documents, payment options, and payment frequency. Our advocates will work on your behalf to ensure you receive initial medications as quickly as possible, and refills, as well as the tracking of your medications.
Do I Qualify To Get My Janumet  Medication Through Prescription Hope?
Prescription Hope works with thousands of Americans every month, obtaining prescription medications on their behalf for the set price of $50.00 per month per medication.
The income guidelines to qualify for Prescription Hope are as follows;
An individual earning up to or around $30,000 per year
Households with a combined income of up to $50,000 per year
Guidelines can increase in families making up to $100,000 per year
Keep in mind, if our advocates cannot obtain your Janumet medication for you, we will never charge a fee for that medication.
Once you apply for Prescription Hope, our knowledgeable advocates start to work for you. Within the first 48 hours, we will determine whether or not you are eligible for any patient assistance programs for the medications you applied for. If we find a program that will work for you, we will reach out to you for any additional information needed, and reach out to your doctor for the prescription. Once we receive this information back, we immediately order your medication for you. After that, we work to manage, track and refill your medications on time, maintain up-to-date records, and renew your prescription medications every year. Once your application is approved, the first shipment of prescription medication typically arrives within four to six weeks. We also place refills to come in on a regular schedule.
Through our program, Americans save thousands every year from the retail cost of their prescription medications through Prescription Hope.
Is Prescription Hope a Janumet Coupon, or Insurance Plan?
Prescription Hope is not a Janumet coupon or insurance policy. This is also not a Janumet generic. Instead, Prescription Hope obtains your brand-name medications directly from the U.S. based pharmaceutical manufacturers and their pharmacy. Individuals looking for a Janumet coupon can find savings with Prescription Hope!
Furthermore, there are no application fees or hidden charges for Prescription Hope. In the event Prescription Hope cannot obtain a prescription medication, there will never be a fee for that medication.
Could Prescription Hope Obtain My Other Prescription Medications As Well?
For the set price of $50.00 per month per medication, Prescription Hope can obtain any of your prescription medications on our medication list. The top-100 prescribed medications in the United States are accessible on our medication list. Although we do not cover generic medication if you are prescribed a generic you cannot afford we encourage you to still apply as we may be able to get the brand name equivalent.
If we cannot help you obtain a medication, we will not charge you for that prescription medication. Apply with Prescription Hope now, and start living a better life with affordable prescription medication.
Can I still Use Prescription Hope For Janumet If I Have Insurance Coverage?
Prescription Hope can work with many insurance plans as a value-added program, filling the coverage gap individuals may fall into. Because our program is not an insurance plan, there are no copays, deductibles, or medication tiers for you affordable prescription medications. When you use Prescription Hope, your total will never cost more than $50.00 per month per medication.
As a trusted partner for insurance organizations, Prescription Hope can help insured individuals maintain their policies by obtaining their prescription medications for the set price of $50.00 per month per medication.
Contact us today to learn more about how we help insured patients obtain prescription medications.
Janumet: Prescribed To Help Those With Type 2 Diabetes
Janumet is one of many common medications prescribed to adults struggling with type 2 diabetes. The Centers for Disease Control estimates as many as 29 million Americans struggle with the disease, making Janumet a life-saving medication.
When prescribed by a doctor as part of an overall treatment plan, individuals can take better control of their overall health. For more questions about Janumet including other treatment options and possible side effects, please consult a physician or read further details below.
Those prescribed Janumet may be able to access prescription
medication with the help of Prescription Hope
As the nation's fastest-growing pharmacy program, Prescription Hope can obtain over 1,500 FDA-approved prescription medications from over 180 U.S. based pharmaceutical manufacturers for the set price of $50.00 per month per medication. Apply today, and begin obtaining your prescription medications at an affordable price through Prescription Hope.
Things To Consider Before Taking Janumet
Firstly, it's important to make sure you do not take this medication if you are allergic to metformin or sitagliptin. Also, tell your doctor if you have ever experienced or are dealing with any of the following:
Kidney disease

Liver disease

Heart disease

Pancreatitis

High triglycerides (a type of fat in the blood)

Gallstones

Alcoholism.
You should also follow your doctor's advice on taking Janumet if you are pregnant or breastfeeding. This is because blood sugar control is extremely important during pregnancy and you might have to change your dosage during each trimester of your pregnancy.
Note: Janumet is not approved for use by any patients below the age of 18 years.
How To Take Janumet
Take as prescribed by your doctor. For guidance only, this medication is usually taken by mouth twice a day with meals.
The best benefit of this medication comes only when it is taken regularly, especially at the same time every day. The manufacturers of these tablets advise not to split, break, or cut the tablet when taking it. Also, do not crush or chew the tablet, you will need to swallow it as a whole.
Janumet tablets don't dissolve completely in the body. Part of the tablet will sometimes appear in your stool. But this is a common side effect of Janumet and it will not take this medication less effective in any way. However, you should call your doctor if you see the tablet in your stool several times.
It should also be mentioned that no matter how consistent and accurate you are in taking Janumet, this medication is only a part of a complete treatment program. The treatment program may also include other external supporting activities such as dietary needs, exercise program, weight control, regular blood testing, and other special medical care.
Janumet Dosage
The dosage for Janumet will be exactly as specified by your doctor and may largely depend on your body type, as well as other drugs used, your health conditions, pregnancy, and breastfeeding, etc. But a common rule is always to stick to the guidelines for taking the medication as prescribed by your doctor. No more, no less.
Missed Janumet Dose
If you ever miss a dose, take the missed dose as soon as you remember. If you have realized that you missed the dose when it's almost time for the next dose, then skip the missed dose. Never take any other extra medication to make up for the missed dose. 
And if you ever overdose on Janumet, seek emergency medical attention or call the Poison Help line at 1-800-222-1222.
Other Drugs That Affect Janumet
As mentioned previously, Janumet is made from metformin and sitagliptin, these two are drugs that can easily interact with most other drugs. While some drugs can only cause an interaction that reduces the effectiveness of Janumet, some drugs may interact and cause several health risks.
Below are some common drugs that can interact with and adversely affect Janumet.
Anti-seizure medications which include medications such as phenytoin, zonisamide, topiramate, acetazolamide, and others

Any antiviral medications for HIV or AIDS

Antipsychotic medications especially  prochlorperazine, thioridazine, chlorpromazine, and others

Estrogen-containing medications including hormone replacement  or birth control pills

Antacid medications including cimetidine

Corticosteroid medications such  as prednisone, Dichlorphenamide, Ranolazine, vandetanib

Heart or blood pressure medications especially diuretics or water pills, digoxin, channel blockers, calcium, and others

Any other diabetes medications including insulin, sulfonylureas, or others
The above list does not cover all the drugs that cause interaction or affect Janumet, so it's important that you make sure to divulge clearly to your doctor any drugs you are using or have used.
Janumet Storage Guide
Janumet should be stored at  68°F to 77°F (20°C to 25°C) and it should be stored out of the reach of children at all times. Also, make sure the medication is stored in an airtight container if the package is removed.
Janumet Ingredients
Active Ingredients 
The two main active ingredients of Janumet are sitagliptin and Metformin. Sitagliptin belongs to a class of medications called DPP-4 inhibitors (dipeptidyl peptidase-4 inhibitors), and metformin belongs to a class of medications called biguanides. These two active ingredients work together in controlling blood sugar levels in type 2 diabetes patients.
Janumet also contain other inactive ingredients such as-
Microcrystalline cellulose

(

C6H10O5) –

This is a refined wood pulp that is white and has a consistency of a free-flowing powder. Its excellent compressibility properties make it suitable to be used in solid dose forms, such as tablets.

Polyvinylpyrrolidone –

Also known as povidone or PVP this ingredient is used as a synthetic polymer vehicle for dispersing and suspending drugs. It acts as a binder for capsules and tablets. It also helps in flavoring liquid solutions and chewable tablets.

Sodium lauryl sulfate (C12H25SO4Na) –

Also known by the term sodium dodecyl sulfate is actually an ingredient used in cleaning and cosmetic products. It is used as an excipient in dissolvable dosage forms.

Sodium stearyl fumarate –

This is a water-soluble lubricant used for compressing tablets or for the process of "Tableting". It is mostly used in situations where other lubricating agents fail to provide tablets the right stability, hardness, dissolution rate and other properties of a tablet.
Inactive Ingredients
The tablet film coating of Janumet contains the following inactive ingredients,
Polyvinyl alcohol (C2H4O)-

This is a water-soluble synthetic polymer, which is used to increase viscosity in pharmaceuticals.

Polyethylene glycol –

This

is a laxative solution that increases the amount of water in the intestinal tract, which helps in stimulating bowel movements. This way it is used as a laxative for treating constipation and other irregular bowel movements.

Magnesium silicate (MgSiO3) or Talc (when hydrated

)

– This is used as an anticaking agent to improve the powder flow in tablet compression.
Titanium dioxide (TiO2) –

This is a natural mineral used in paints as a bright white pigment. In the food industry it is used as a coloring agent and also in sunscreens and cosmetics. It's used in pharmaceuticals for its excellent ultraviolet (UV) resistant qualities to block UVA and UVB rays. In pharmaceutical products it is used as a pigment for tablet coatings, gelatin capsules, and syrups.

Red iron oxide

/

Ferric oxide red (Fe2O3) –

This ingredient is also known as iron (III) oxide and is a coloring agent used in capsules and tablets.

Black iron oxide/Ferric oxide black (Fe3O4) –

This ingredient is also known as iron (III) oxide and is also a coloring agent used in capsules and tablets.
Janumet Benefits and Side Effects
Janumet Benefits
Janumet is very effective. As we mentioned, this medication contains two medications called Sitagliptin and Metformin. The benefit of this combination is that it helps to control blood sugar much more naturally with greater effectiveness for type 2 diabetes patients.
This is because for those who are unsure of the main cause of type 2 diabetes is that your body doesn't make enough insulin and also fails to use the insulin properly – so blood sugar levels increase. 
So what is needed for this type of condition is that your body needs assistance to properly produce sufficient insulin
What Metformin does is that it works by helping to restore the body's proper response to insulin being naturally produced. Meaning it helps the body to properly use the insulin produced
On the other hand, Metformin also decreases the amount of sugar that your liver makes and also reduces the amount of sugar your stomach/intestines absorb, thereby overall reducing the blood sugar spikes.
Similarly, since type 2 diabetes also occurs due to insufficient production of insulin, sitagliptin helps to increase the natural substance called "Incretins".Incretins is a substance that helps to increase the release of insulin. Sitagliptin also decreases the amount of sugar your liver makes, again as an overall helping to regulate spikes in blood sugar levels.
As you can see the main causes of type two diabetes is effectively reduced from Janumet as a 2-in-1 combination, which is one of the main benefits of this medication.
On the other hand, this medication is taken in the form of a tablet, which eliminates the pain of injecting different insulin for type 2 diabetes. This medication is also relatively easy to use and carry over insulin injections and related gadgets. Nevertheless, the 2-in-1 combination reduces the number of pills or injections you will have to take daily.
Janumet Side Effects
Serious Side Effects
Lactic acidosis is a very common yet serious side effect of Janumet. One might experience this side effect if you have liver or kidney disease, congestive heart failure, severe infection if you have gone through surgery, if you're regularly dehydrated or if you consume a lot of alcohol.
Janumet can also lead to a serious side effect called pancreatitis. Pancreatitis can cause severe pain in your upper stomach that will gradually spread to your back. Call your doctor right away if you experience any of the serious side effects and get immediate treatment.
Janumet can also cause serious allergic reactions which will cause fever, burning sensation in the eyes, skin pain, red or purple skin rash that will start to spread and cause blistering and peeling. Early symptoms may get worse with time and can lead to serious health risks. So watch out for early mild symptoms and stop using the medication if you experience any.
The following are some early mild symptoms of serious side effects that you may experience while using Janumet:-
Itching, blisters, breakdown of the outer layer of skin
little or no urinating at all
severe or ongoing pain in your joints

shortness of breath (even while lying down), trouble breathing, swelling in your legs or feet, rapid weight gain

Signs of low blood sugar, including headache, sleepiness, dizziness,  sweating, feeling jittery, hunger and slow, irregular or fast heartbeat
Call your doctor right away if you experience any of the above-discussed symptoms getting worse.
Common Side Effects
The most common side effects of Janumet include,
An upset stomach and stomach
Troubles, gas, diarrhea, vomiting, and nausea

Weakness, tiredness or headache

Common cold symptoms such as a runny or stuffy nose, sore throat, and sneezing 
This is not a complete list of side effects and others may occur depending on different interactions and other body systems. As a precaution get advice from your doctor regarding the side effects or you can also report your side effects to FDA at 1-800-FDA-1088.
Is Janumet bad for kidneys?
Yes, many kidney problems have happened with Janumet. It's believed that these kidney problems are caused mainly by the substances Janumet is made from i.e. sitagliptin and metformin. For more questions and advice with regard to this, consult your doctor.
Can Janumet cause cancer?
Studies have shown that Janumet can increase the risk of chronic pancreatitis (inflammation of the pancreas), which will lead to the development of pancreatic cancer. The FDA recommends doctors to monitor patients for signs of pancreatitis once after the doses of Janumet are prescribed to be increased. The symptoms of pancreatitis have been discussed under serious side effects above.
Does Janumet cause weight gain?
When Janumet is used alone (no other drugs are used in parallel) it is not likely to cause any weight gain. But this may vary when other drugs are used along with Janumet.
Does Janumet lower blood sugar?
Low blood sugar can happen when using Janumet, especially when other drugs are used in parallel with Janumet. Signs of low blood sugar include feeling sleepy, feeling weak, shaking, a fast heartbeat, confusion, hunger, dizziness, headache or sweating.
Janumet Frequently Asked Questions
Which is better Janumet or Janumet XR?
Janumet XR. This is because the only real difference between Janumet and Janumet XR is that Janumet is taken twice daily and Janumet XR is taken only once daily, which makes Janumet XR more efficient in terms of dosage and convenience.
Are Janumet and Metformin the same?
No, they are not. Metformin is a single drug that controls blood sugar levels in patients with type 2 diabetes, whereas Janumet is a combination of two drugs that are used to treat type two diabetes of which one is metformin
Is Janumet better than Metformin?
Essentially, yes, because Janumet is a 2-in-1 combination and so its functions and performance is more effective over the single metformin.
What About Automatic Prescription Refills?
Prescription Hope offers automatic prescription refills so you don't have to worry about forgetting to refill your prescription. And if your prescriptions are automatically being refilled as needed, you won't have to worry about expired medications.
You will have brand new, safe and effective medication right at your doorstep. Our simple solution will give you the confidence of knowing your medication will be refilled and delivered month after month. Prescription Hope is a nationally recognized prescription medication access program providing access to over 1,500 FDA-approved prescription medications for less.
We work with over 180 U.S. based pharmaceutical manufacturers, including the top-100 prescribed brand-name medications in the United States. With Prescription Hope you don't have to remember to refill your prescription each month, let us worry about that for you.
Questions? Visit our website to learn more about how Prescription Hope can help you save money on your prescription medications.
Who Is Prescription Hope?
Prescription Hope is a nationally recognized prescription medication access program, headquartered in Columbus, Ohio. We access over 1,500 FDA-approved prescription medications for $50 per month for each medication. This covers 100% of the medication cost no matter the retail price.
Prescription Hope is NOT a prescription discount card or an insurance plan. If your Janumet cost is too much, Prescription Hope can help.
Prescription Hope works with over 180 U.S.-based pharmaceutical manufacturers and their pharmacy to access over 1,500 FDA-approved medications. Our medication list includes the top-100 prescribed medications in the United States offered by big-name medication companies. There are no additional costs or hidden fees associated with the medications obtained through Prescription Hope. We will never charge a fee for any medication that we cannot access for you.
Create your account to fill out a free application! Contact Prescription Hope today and begin receiving your prescription medications for the set price of $50 per month for each medication. Below is a price comparison sheet for some of our most popular medications.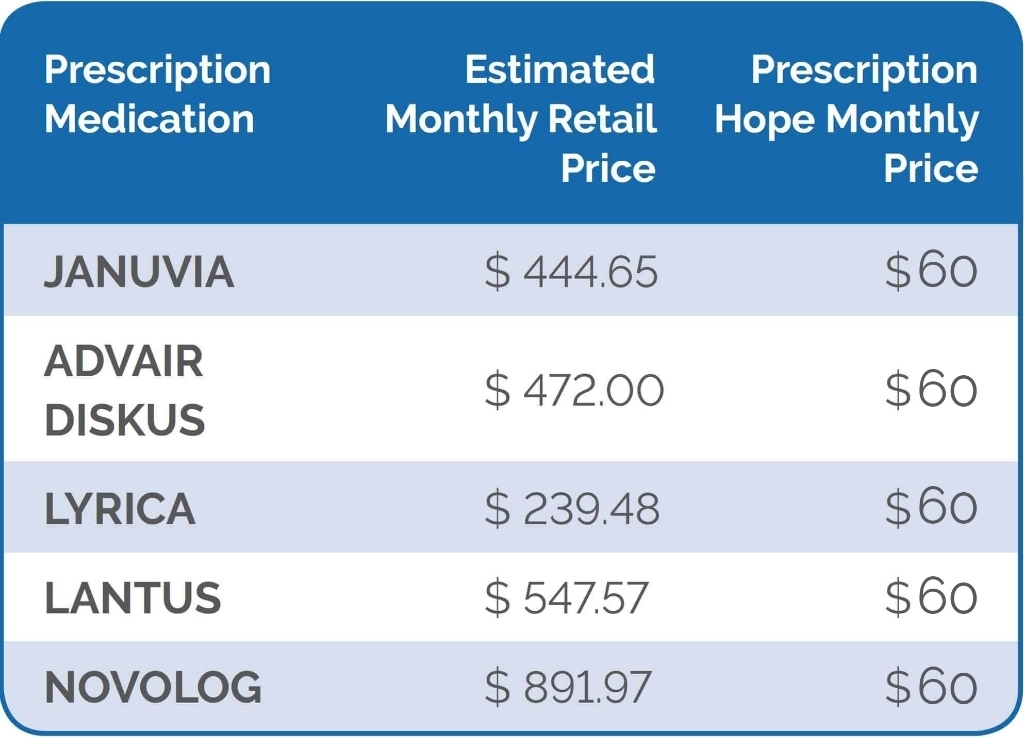 To Close…
These details are meant for guidance purposes only, always be sure to consult your doctor directly before changing any medication, and/or if you're experiencing any effects you believe are adverse or unexpected. To get your Janumet for the set price of $50 per month, visit us online to fill out an application.
Article Updated September 2019.