Eliquis Coupon (Apixaban)
Posted June 15, 2015 by admin
Is Your Eliquis Medication Too Expensive?

Learn How People Are Paying A Set Price Of $50 A Month For Eliquis Through Prescription Hope!
Are you looking for a place to get your Eliquis (Apixaban) medication at an affordable price?
Prescription Hope offers the top medications prescribed on a national level including Pradaxa, Xarelto, Innohep and many more. All you pay is a set service fee of $50 per month for each medication. This includes 100% of the medication cost, no matter the retail price.
Eliquis Apixaban Cost Comparison Chart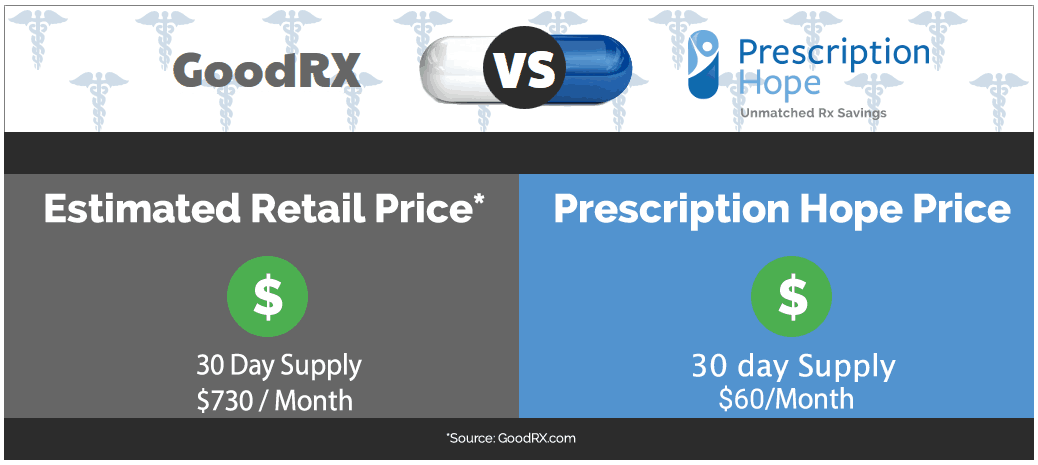 Who is Prescription Hope?
Prescription Hope is a nationally recognized prescription medication access program, headquartered in Columbus, Ohio. Prescription Hope offers access to over 1,500 brand-name medications through patient assistance programs. All you pay is a set service fee of $50 for each medication per month. This includes 100% of the medication cost, no matter the retail price.
Prescription Hope is NOT an Eliquis coupon, prescription discount card or an insurance plan.
Prescription Hope works with over 180 U.S.-based pharmaceutical manufacturers patient assistance programs to access over 1,500 FDA-approved medications. Our medication list includes the top-100 prescribed medications in the United States. There are no additional costs or hidden fees associated with the medications obtained through Prescription Hope. We will never charge a fee for any medication that we cannot access for you.
Create your account to fill out a free application! Contact Prescription Hope today and begin receiving your prescription medication for the set price of $50 per month. Below is a cost comparison sheet for some of our most popular medications.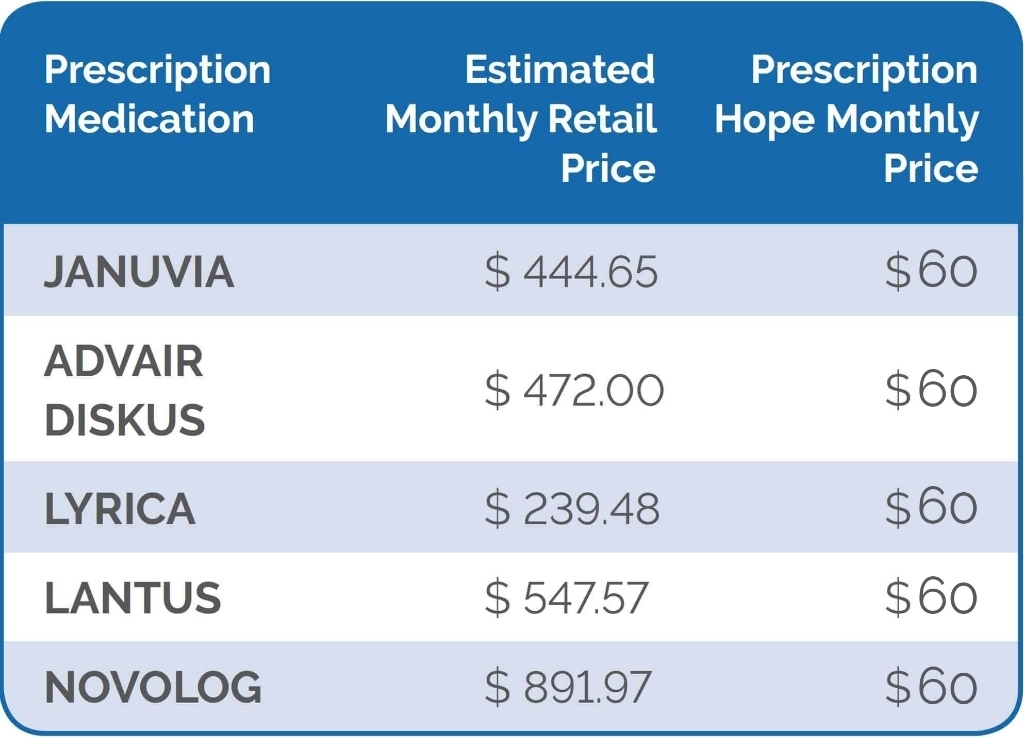 Do I Qualify For Eliquis Patient Assistance With Prescription Hope?
Prescription Hope works with thousands of Americans every month, obtaining prescription medications on their behalf for the set price of $50.00 per month per medication.
The income guidelines to qualify for Prescription Hope are as follows;
An individual earning up to or around $30,000 per year
Households with a combined income of up to $50,000 per year
Guidelines can increase in families making up to $100,000 per year
Keep in mind, if our advocates cannot obtain your Eliquis medication for you, we will never charge a fee for that medication.
Once you apply for Prescription Hope, our knowledgeable advocates start to work for you. Within the first 48 hours, we will determine whether or not you are eligible for any patient assistance programs for the medications you applied for. If we find a program that will work for you, we will reach out to you for any additional information needed, and reach out to your doctor for the prescription. Once we receive this information back, we immediately order your medication for you. After that, we work to manage, track and refill your medications on time, maintain up-to-date records, and renew your prescription medications every year. Once your application is approved, the first shipment of prescription medication typically arrives within four to six weeks. We also place refills to come in on a regular schedule.
Through our program, Americans save thousands every year from the retail cost of their prescription medications through Prescription Hope.
Is Prescription Hope An Eliquis Coupon, Eliquis Generic, Or Insurance Product?
Prescription Hope is not an Eliquis coupon card or insurance policy. This is also not an Eliquis generic. Because Prescription Hope works with any coverage you may already have, individuals looking for an Eliquis coupon can find savings through Prescription Hope!
When you obtain your medications from Prescription Hope, your total will never cost more than $50.00 per month for each medication. If we cannot help you obtain your prescription medication, we will never charge a fee for that medication.
Can Prescription Hope Get My Eliquis (Apixaban) If I Have Insurance Coverage?
Because Prescription Hope is not an insurance plan, our program works alongside any coverage you may currently have to obtain your Eliquis medication for an affordable price. Our national advocacy program does not have medication tiers, copays, or deductibles. If your Eliquis Apixaban cost is too high, we can help you separately from whatever coverage you currently have.
Every year, Prescription Hope works with some of the most prominent insurance organizations across the United States. This includes Anthem Blue Cross Blue Shield, United Healthcare, and Humana.
When adding Prescription Hope, insurance organizations can provide a better level of care for their clients. Contact us today and learn more about how Prescription Hope can help individuals obtain affordable prescription medication.
Eliquis (Apixaban): Prescribed To Treat Patients Struggling With Nonvalvular Atrial Fibrillation
Eliquis (apixaban) is one of many common medications for those patients that struggle with complications of nonvalvular atrial fibrillation. In addition, Eliquis is prescribed for those who struggle with deep vein thrombosis (DVT) which has the risk of turning into a pulmonary embolism. Therefore, when treatment is successful, Eliquis may be able to reduce the risk of stroke in patients. For more questions about Eliquis (apixaban), including other treatment options and possible side effects, please consult your doctor.
Important Safety Information And Side Effects:
Do not stop taking Eliquis without talking to the healthcare provider who prescribed it to you. Stopping Eliquis increases your risk of having a stroke
If you are taking Eliquis and also receive spinal anesthesia or have a spinal puncture, you and your healthcare provider should watch closely for symptoms of spinal or epidural blood clots or bleeding
Side effects include bleeding or an allergic reaction to Eliquis itself. Contact your healthcare provider immediately if you are experiencing any side effects from taking your medication
Who should not take Eliquis?
If you have artificial heart valves
You are currently experiencing abnormal bleeding
You have had an allergic reaction to Eliquis in the past
Make sure to call your doctor if:
You have kidney or liver problems
If you've had bleeding problems in the past
You have an upcoming surgery or procedure
Unexpected bleeding occurs
Pain, swelling, headaches, or dizziness occurs
Because Eliquis is a blood thinner, it could cause bleeding which can be serious and in rare cases lead to death. You could have a higher risk for bleeding if you are taking the following medications; Aspirin, NSAID's, SSRI's, SNRI's, and any other medication used to reduce blood clotting. Make sure to always take your medication as prescribed by your doctor. Typically, this medication is taken twice daily, with or without food. If you miss a dose, take it as soon as you remember, but never take more than one dose at the same time. For any questions concerning how to take your medication, please contact your prescribing doctor or healthcare provider.
Eligible patients can save money with Prescription Hope no matter the dose of Eliquis that has been prescribed. Most importantly, please be sure to read the eligibility requirements and terms of service when applying.
Can Prescription Hope Help Me Obtain My Other Medications?
According to the Centers for Disease Control, nearly one in five Americans regularly takes three prescription medications. Our advocates can work on your behalf to obtain all your medications for the set service fee of $50.00 per month for each medication. As a national advocacy program, Prescription Hope works directly with the U.S. based pharmaceutical manufacturer who makes Eliquis to offer you your medication. Visit our website to see our full list of medications and feel free to contact us with any questions you may have.